Spetses with style and sophistication will thrill you at first glance because of its cosmopolitan aura. Luxury and local tradition coexist on the beautiful island of Spetses, a favourite of of Kings, captains and fashionistas, and the infamous Laskarina Bouboulina, awaits you all year round to narrate its unique history that peaks with the Battle of Spetses.
A favourite islands close to Athens, cosmopolitan Spetses will make you want to return again and again. It's an ideal destination for a quick retreat all year round and never fails to make you feel special, whether you are enjoying a leisurely coffee in Dapia, with a view of Kosta and Porto Heli on the mainland opposite, taking a romantic stroll along the Old Harbour, or learning about the island's fearless heroine Laskarina Bouboulina.
Horse-drawn carriages, bicycle and walking will be your only modes of transport on Spetses, all the better to enjoy the well-kept captains' mansions.
Of course the ambience of the legendary Poseidon Hotel near the port, which has hosted royalty, politicians and dignitaries. Spetses has long been a favourite escape for high society, as reflected in the smart cafes, art stores and stylish boutiques.
Take a long stroll and enjoy the aristocratic ambience! Since the use of cars is restricted, horse and carriage or walking remain the preferred means of getting around on Spetses. So be sure to take a romantic evening ride in any of the horse-drawn carts that operate on the island, passing the picturesque Old Harbour, Agios Nikolaos and back to the main town, Dapia.
Discover Spetses island! Among the top tourist attractions of Spetses we have picked those that you must see!
1. The well-known port of Spetses called Dapia. There is located the Poseidon square with Bouboulina's statue.
2. The neoclassical mansion of Sotirios Anargyros, the benefactor of Spetses.
3. The mansion of Bouboulina that today operates as a museum.
4. The Lighthouse of Spetses, one among the first ones of Greece.
5. Old Harbour, a museum with Greek wood-carved items.
6. The historical Saint Nicholas church. Built in the late 17th century, it has a unique churchyard and a traditional island architecture.
7. Bekiris Cave. If you drink water from the spring, your love will last forever!
+1. The famous Armata Festival
On the 8th of September, a celebration of the anniversary of the Battle of Spetses. It may not be a tourist attraction, but it is the most significant celebration of Spetses that attracts visitors from all around the globe.
Travel with the Speedcat vessel, and discover a new experience in cruising!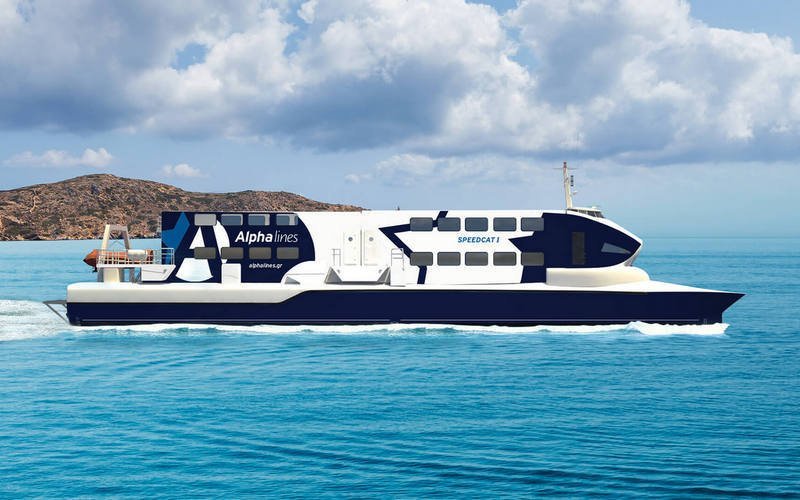 Digital capabilities for a modern & comfortable voyage SPEEDCAT I offers satellite INTERNET connectivity, ensuring continual internet access for passengers throughout their voyage. At the same time, passengers in the Business Area are able for the first time to send orders to the Flocafé bars of the ship via mobile phone, tablet or laptop and be served at their seat. Each seat has its own individual QR Code. A pleasant voyage would not be complete without the Alpha Stream service, a rich on-board entertainment and information system.
Performance & Sailing
The vessel can reach a full speed of 36 knots and a service speed of 32 to 33 nautical miles per hour. For example, starting from Piraeus, the vessel can dock at Poros in 1 hour, at Hydra directly in 1 hour and fifteen minutes (1 and 15') and via Poros in 1 hour and forty minutes (1 and 40'), at Spetses via Poros and Hydra in 2 hours and twenty minutes (2 and 20') and via Hydra alone in 1 hour and fifty minutes (1 and 50'). The vessel was designed using 'wave piercing' technology that affords it steady sailing and speed, penetrating through waves and ensuring a comfortable voyage even during severe weather conditions.
** The day cruise to Spetses is not escorted, therefore you have the chance to spend the day in Spetses the way you choose; however, you are most welcome to ask for advice or information on the island.
Inclusions & Exclusions
Included
Athens hotel pick up/drop off service
Athens to Piraeus and return transfer
Round-trip ferry tickets
Excluded
Food and drinks
Personal expenses
All that is not mentioned in the Included
Cancellation Policy
If you cancel within 3 day(s) of the scheduled departure, there is a 100% cancellation fee. If you cancel at least 4 day(s) in advance of the scheduled departure, there is no cancellation fee.
---
Note: if you are booking within 24 hours of the tour/activity departure time, we cannot guarantee hotel pick-up. Once your purchase is complete, we will send you complete contact information (phone number, email address, etc.) for our local operator to organize pick-up arrangements.