Athens One Day Cruise
one day cruise from Athens to Hydra, Poros, and Aegina Islands
One Day Cruise from Athens to Hydra, Poros, Aegina
Athens One Day Cruise; A daily cruise to the 3 most famous islands close to Athens, Greece. Discover the world's most beautiful islands of the Aegen sea in a unique and refreshingly local way. We at Athens One Day Cruise design breathtaking experiences that complement the natural beauty of Greece in a way that identifies with our vibrant outdoor lifestyle. Take the journey and discover your dream Athens one-day cruise experience.
Experience the best of the Saronic golf islands on the Athens one day cruise! Visit the historic island of Hydra with no cars on it, Poros island, the smallest of the three islands, is separated from the Peloponnese by a narrow strait and offers a most enchanting view of Poros Town and Aegina Island the largest of the three islands with its rich history.
Athens's one day cruise will take you on the journey of a lifetime! Many cruises start from Athens, and many of them visit some of the most famous and exquisite islands of the world. Athens One Day Cruise is by far the most beloved cruise in Greece.
Greece has 6.000 islands and islets! Enjoy breathtaking views of the 3 islands, cruise on the Aegean sea, pass through many small islands, and come face-to-face with the famous islands of the Saronic golf. Feel the thunderous roar of crystal-deep blue waters and the incredible power of one of the world's most stunning natural wonders nature has designed for people.
Live an unforgettable experience! Discover the wonder of nature and experience the very best of it, on Athens One Day Cruise!
Make sure to bring your camera with you … we'll bring a good mood!
… and if you want to be a celebrity for a day, upgrade to the Athens One Day Cruise VIP Package. Click here for more!
Cruise Highlights
Cruise to 3 islands: Hydra, Poros, and Aegina
Free time to explore each island
Shopping or swimming on Hydra
Excursion to the Temple of Aphaia on Aegina
Visit Trizina, the Russian Dockyard or stroll through the Lemon Forest on Poros
Lunch on board
Return transfer from Athens to cruise starting point
Pickup and drop off from selected Athens hotels
Let's sail together on the most popular cruise from Athens
Book the Athens One-Day Cruise: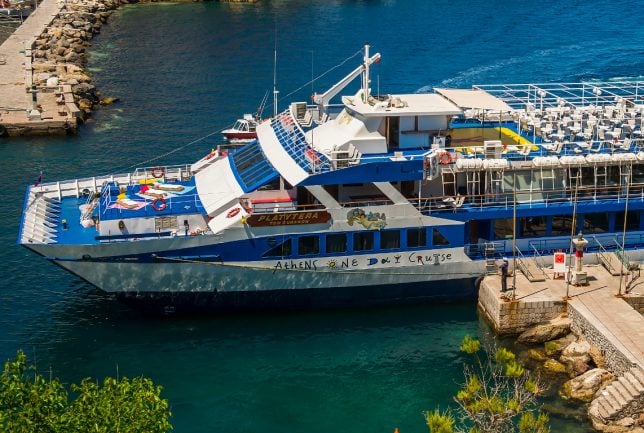 Description of Athens One Day Cruise
Our cruise guide will pick you up from your hotel or from one of our selected locations. After a short sightseeing of Athens, while we will pick up other participants, we will arrive at the port. Your Athens Day Cruise begins!
Our Officers and Hostesses are waiting for you for a warm welcome. They will assist you with boarding on one of our luxurious cruise ships and invite you to proceed either to the Main Lounge, where our live orchestra has already started putting you in the right mood with its international music repertoire, or to one of the spacious open decks where you can enjoy the fascinating view, as the ship leaves the port at approx 08:15 for the three beautiful islands of the Saronic Gulf.
Our guides and hostesses will invite you to assemble in one of the Lounges, in order to give you all the necessary information concerning the ship, the cruise program as well as the islands. It is a perfect opportunity to get answers to any questions you might have, as our trained staff is there to ensure that you will have a wonderful day. You'll have the chance to appreciate our activities on board, such as listening to music while sipping your special cocktail, dancing, and the fun of taking a Greek dance lesson. Cruising between the islands' tastes our lunch buffet offers you an exceptional culinary experience featuring a variety of authentic Greek and Mediterranean cuisine.
Cruise Schedule: 08:00 Departure, 11:15 Arrival to Hydra, 12:45 Departure from Hydra, 14:00 Arrival to Poros (Lunch), 14:50 Departure from Poros, 16:00 Arrival to Aegina, 18:00 Departure from Aegina, 19:15 Return to the same spot – Check the detailed schedule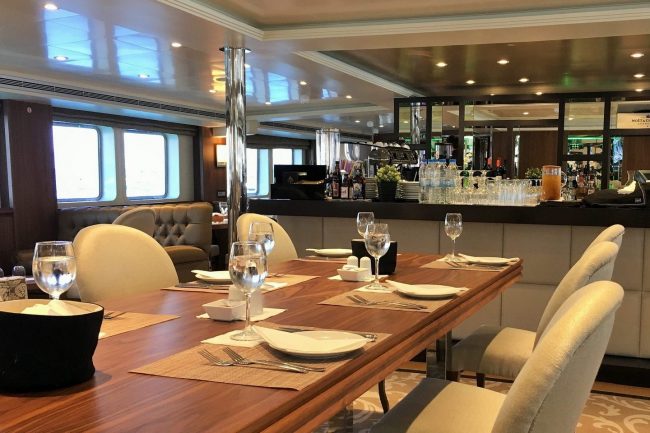 VIP Cruise Package | Athens One-Day Cruise
This exclusive VIP cruise package is designed for discerning travelers accustomed to five-star luxury and superlative service! A cool drink and delicious food are waiting for you to welcome you on board with various types of delicious appetizers as a festive start to your adventure cruise to three spectacular islands of the Saronic Gulf.
Of course, our sunny decks are there for you to lounge comfortably enjoying a glass of fine wine (optional) with the fresh air and the Aegean atmosphere. And if you want to relax, our executive VIP lounge is ready for you in an aesthetic atmosphere and a modern lounge with spacious, comfortable seating and all conveniences at your fingertips.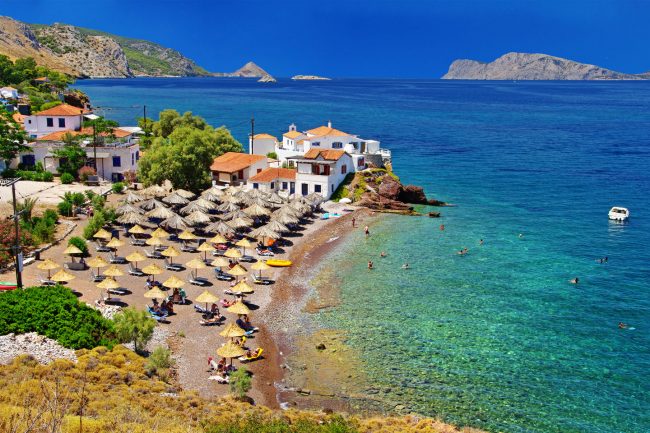 Island of Hydra | Athens One Day Cruise
Arrive on the island of Hydra sailing 2H30 approx., and its port whose amphitheater shape once served as a safe shelter for Saronic Pirates. Admire from our deck's vessel the special architecture and dramatic landscapes of this island, whose old traditional stone houses and mansions silently stand witness to a long and turbulent history.
It's all there on Hydra… the small narrow stone-paved streets waiting to be explored on foot or by the island's traditional "vehicle" – the saddled donkey.. captivating walks along the old seaside promenade.. crystal clear waters… radiant traditional fine-craft shops.. the beauty of Hydra will conquer you forever!
Poros Island | Athens One Day Cruise
Poros is 1 hour & 15 minutes to sail. Poros is the smallest of the three islands, separated from the Peloponnese by a narrow strait and offering a most enchanting view of Poros Town. Time at leisure is about 50 minutes.
Departure from Poros, and immediately lunch will be served. Our Chef will do his best to tempt your senses with a wide choice of Greek and Mediterranean dishes., fresh salads, and desserts.
Sailing towards Aegina, relax and enjoy the sun on the Ship's Lounge, or admire the spectacular panoramic view from one of our spacious decks.
Aegina Island | Athens One Day Cruise
After two-hour sailing, we shall arrive at our last port of call, the island of Aegina, the largest of the three islands. Apart from its harbor, there are numerous interesting sites to discover on the island and therefore we propose 3 optional tours: Excursions and Tours on Hydra and Aegina
After your visit to Aegina, return to the ship to enjoy our live orchestra and dancers. Listen to Greek music with the "bouzouki" and learn Greek dances with our professional dancers for an afternoon of fun. The Greek Folk Dance Show with Apostolis and his dancers in local costumes from all over Greece is an inspirational experience to enjoy as your cruise ship enters the harbor of Piraeus at sunset.