One of Athens one day cruise islands is Hydra, a barren, rocky island, which has become a cosmopolitan artists' center in recent years.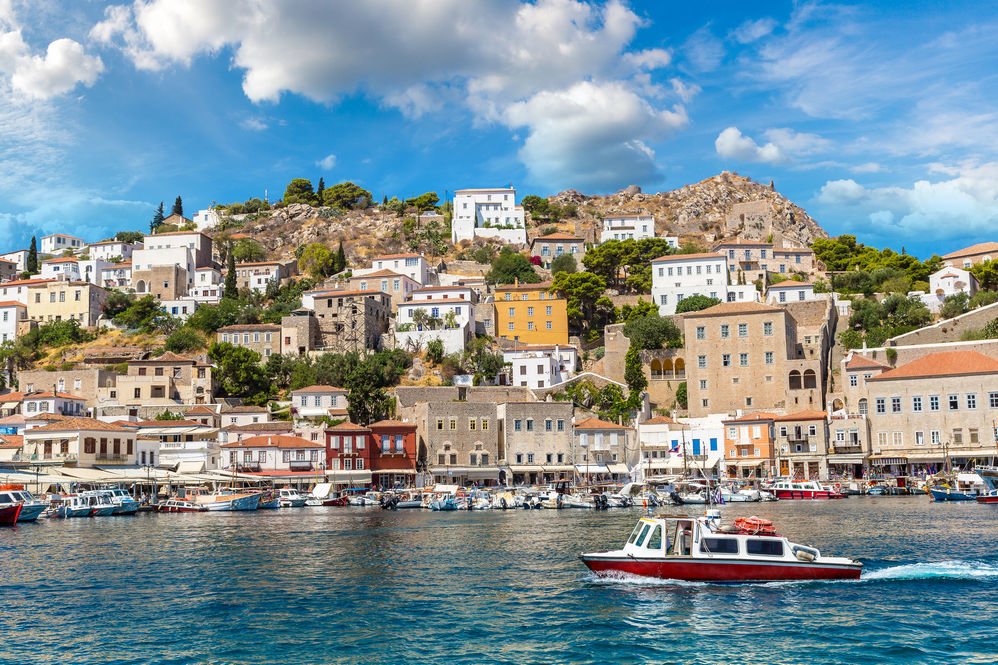 The island of Hydra; The cosmopolitan island close to Athens. Hydra's modern history dates from the 15th Century but rose to prominence as a shipping power in the 18th Century, winning the appellation "Little England", as a result. This maritime tradition has continued into our own time in the island's Merchant Navy Training School. And the 18th and 19th Century mansions surrounding the port still testify to its earliest wealth and grandeur.
Impressive Mansions on Hydra
Among the most impressive of these are the Voulgaris, Koundouriotis, and Tombazis houses; the latter is now a hostel for students from the Athens School of Fine Arts. The Koundouriotis mansion, on the other hand, has been converted into a museum containing memorabilia from the War of Independence, in which Hydra played an important active role.
For artists and art lovers generally, Hydra is both a meeting place and showplace. The galleries scattered throughout the port offer something more than carefree relaxation by the sea.
Monasteries on Hydra
Besides, being so rocky, Hydra is not renowned for the beaches, but rather for its many monasteries and churches. The most important of these are the monasteries of Profitis Ilias, Agia Matrona, and Agia Triada.
Beaches on Hydra
Swimming is nevertheless possible from Hydra's rocks, especially at Kaminia, Molos, and Vlichos south of the port and at Mandraki, formerly a wartime harbor, north of it. For visitors with a boat, a trip around the island with stops in the stunning covers on the east coast is well worthwhile.
No Motorcars on Hydra
Hydra is also blessed by the absence of motorcars. To walk through its narrow, arched back streets and steep steps, a common feature is to leave the modern world behind.